$44.00
6 oz.
This beautiful 2-IN-1 exfoliating facial cleanser is a soft, gel-like consistency that feels amazing upon application to your face. The jojoba beads used for exfoliating are very gentle, mild, and non-abrasive to the skin. The many ingredients included in this product will clean, hydrate, clarify, moisturize, and help boost collagen production.
How to Use
After using the Generation Bee makeup remover to melt away your makeup, massage a small amount of cleanser onto your face and neck to wash and exfoliate at the same time. Rinse thoroughly for a freshly nourished and glowing complexion.
Ingredients
Aloe Vera Juice, Glycerin, Coco Glucoside, Potassium Cocoate, Jojoba Beads, Rose Hydrosol, Sodium Cocoyl, Apple Extract, HydroxyEthylCellulose, Honey, Algae Extract, Bergamot, Pink Grapefruit, Cucumber Extract, Dragonfruit Extract, Calendula Extract, Tocopherol (Vitamin E), Lemon Essential Oil, Silverion, Tetrasodium EDTA, NaCL, Citric Acid (PWD), Ginger Root Extract, Tocopheryl Acetate (Vitamin E), Xanthan Gum
Aloe Vera Juice
gooey, thick liquid made from the leaf of the aloe vera plant
hydrates
exfoliates
nourishes
clarifies
antioxidant
 Glycerin
hydrates
improves skin barrier
protects
heals
moisturizes
Coco Glucoside
A mixture of non-drying fatty alcohol from coconut oil and the sugar glucose
Potassium Cocoate
antioxidant
removes dirt & oil
promotes cell growth
Jojoba Beads
liquid wax of the jojoba shrub
moisturizes
hydrates
maintains natural PH balance
Rose Hydrosol
by product of essential oil production, created from the water used to distill plant materials
moisturizes
hydrates
anti-inflammatory
anti-bacterial
Sodium Cocoyl Apple Amino Acid
amino acids derived from apple juice
cleanses
hydrates
improves skin tone
Apple Extract
derived from the fruit, leaves, stems, roots or flowers of pyrus malus apples
anti-aging
smoothes skin
antioxidant
HydroxyEthylCellulose
stabilizer
thickening agent
binds
Honey
antibacterial
anti-aging
clarifies
soothes
moisturizes
Algae Extract
formed from the four major classes of seaweed
hydrates
conditions
antioxidant
anti-aging
Bergamot
stimulates skin cell renewal
diminishes scars
antibacterial
evens out pigmentation
Pink Grapefruit
boosts collagen
moisturizes
natural exfoliant
minimizes dark spots
Cucumber Extract
hydrates
anti-inflammatory
balances oily skin
improves the appearance of pores/acne
Dragonfruit Extract
soothes
acne reducer
anti-aging
moisturizes
brightens
Calendula Extract
tightens skin
hydrates
anti-inflammatory
Tocopherol (Vitamin E)
antioxidant
anti-inflammatory
boosts collagen
speeds up cell regeneration
softens skin
Lemon Essential Oil
oil extracted from the citrus fruit
antiseptic
clarifies
anti-aging
reduces excess oil
brightens
rejuvenates sagging skin
 Silverion
Tetrasodium EDTA
NaCL
exfoliates
removes makeup
removes excess oil/impurities
Citric Acid (PWD)
Ginger Root Extract
antioxidant
anti-aging
antibacterial
anti-inflammatory
promotes blood circulation
Tocopheryl Acetate (Vitamin E)
antioxidant
anti-inflammatory
boosts collagen production
softens
anti-aging
speeds up cell regeneration
Xanthan Gum
thickening agent
enhances texture
stabilizer
Packaging
6 oz. glass jar with gold pump
My skin has never felt more hydrated. I use the Bloom Facial Oil everyday!
Laurie
Bloom Facial Oil Customer
I have officially said BYE BYE to Dark Circles.
Craig
Eye Cream Customer
This stuff is made for a queen. The body scrub is my fav!
Nova
Body Scrub Customer
$20.00
BY POPULAR DEMAND:
Our incredible wildflower honey from Michael's hives comes in a beautiful 8 oz. glass jar complete with a wooden honey dipper. Michael's honey tastes absolutely amazing and is the perfect blend of sweet and smooth. Order yours today!
Ingredients
100% natural wild flower honey.
Packaging
8 oz. glass jar with gold lid
Shop Our Collections
Limited time offers.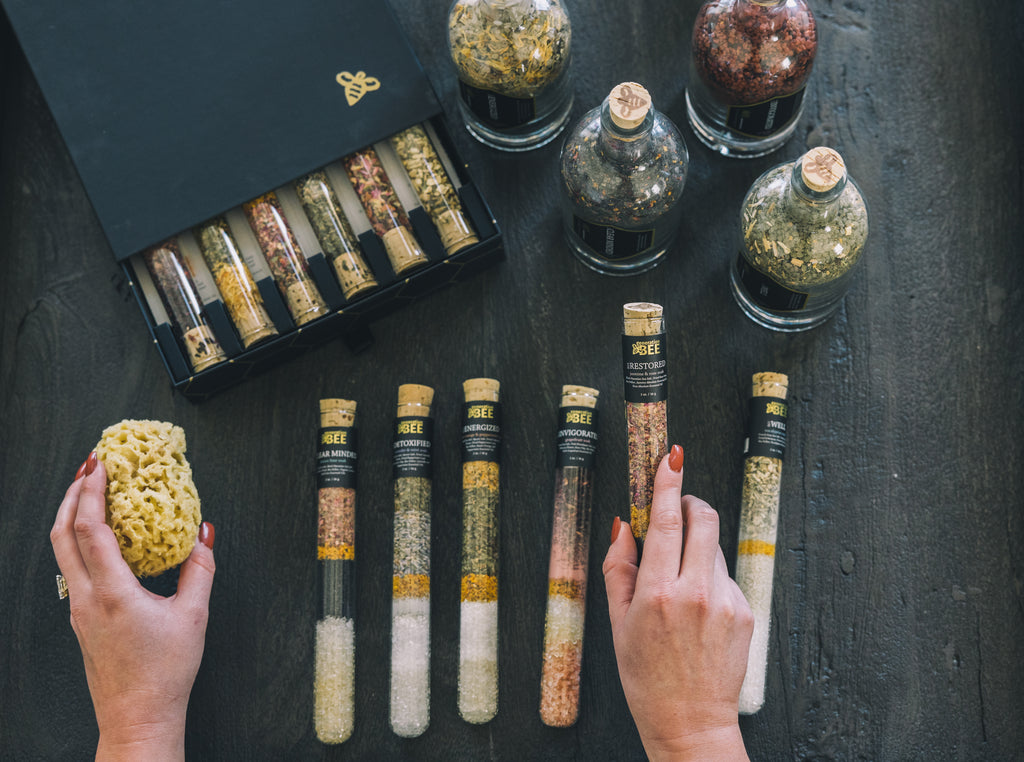 Gifts that give back.
Shop all Generation Bee products.